XKCD had a nice comic on 'File Transfer' yesterday.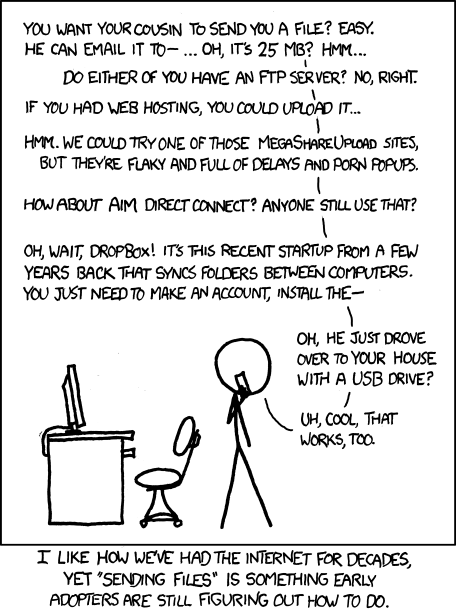 The comic neatly illustrates the woes of transferring files. However this makes one realize another side of the story:
File upload over web is broken!
Have you realized that every browser now has more-or-less functional download manager and features like pause/resume. Even almost all web servers support partial file download, and the feature is exploited by myriads of download accelerators out there.
But how about file uploads? You choose the file, hit the Upload button, and wait! No such thing as progress bars, upload pause/resume and, obviously, upload-accelerators are out of question.
This was okay some years back, when the web was mostly one way business. Not anymore! Nowadays we upload videos, photos and a lot of other large sized files. And how the browsers support the process?
And that's it! Some versions back, there wasn't any such indicator available altogether.
There are workarounds though, like using
Flash
or
Java
. Or even better using
HTML5
. But the whole upload process needs some serious overhauling.